OK you guys loved my round up of my favourite shows back in the spring and well I watch a lot of Netflix and love Christmas movies so I thought why not round up some of my favs!
I'm just going to start off by saying I love non traditional Christmas movies and sappy Hallmark ones… but I normally watch them while doing other stuff too like baking or wrapping because they are easy to follow along to.
First up my 2 favourites:
Four Christmases
This is my favourite Christmas movie and one I watch every year. Brad and Kate have been together three years, in love, having fun, doing all sorts of things together with no intention of marriage or children. Christmas morning, they're on their way to Fiji, having told their two sets of divorced parents that they're off to do charity work. Through a fluke, they have no choice but to visit each of their four idiosyncratic parents. I just find it halarious and love Reese Witherspoon. If you have never watched this one its a must!
The Holiday
Another oldie that I watch every year and you must watch if you never have! Its about two women whos lives are turned upside down who decided to do a house swap over the holidays. Its a beautiful story about figuring life and love out and makes me want to escape to a little cottage in London.
I also really like Holiday in the Wild and Last Holiday which I feel like most people have seen!
Now for some new ones or ones you maybe haven't watched yet!
Holidate
Fed up with being single on holidays, two strangers agree to be each other's platonic plus-ones all year long, only to catch real feelings along the way. This one isn't super Christmasy just basically starts and end on Christmas. It is also not your typically Christmas movie, more of a Four Christmases vibe which I guess is why I liked it. Its funny, a little PG13 at times but still a great story!
Dash and Lily
Ok this one isn't a movie its a series but its soo cute! A whirlwind holiday romance builds as cynical Dash and optimistic Lily trade dares, dreams and desires in the notebook they pass back and forth at locations all across New York City.
Operation Chritsmas Drop
This one is pretty much your classic cheesy, predictable Christmas movie but…. it's based on a true story! I really liked this one and liked it even more when I found out at the end that it actually happens every year! Congressional aide Erica forgoes family Christmas to travel at her boss's behest. At a beachside Air Force base, she clashes with Capt. Andrew Jantz, who knows her assignment is finding reasons to defund the facility.
Klaus
This one is a cartoon and great for the whole family! It's a funny story of how Christmas and Santa all got started and I may have shed a tear or two at the ending! A simple act of kindness always sparks another, even in a frozen, faraway place. When Smeerensburg's new postman, Jesper, befriends toymaker Klaus, their gifts melt an age-old feud and deliver a sleigh full of holiday traditions.
The Holiday Movies that Made Us – Elf
Ok not a Christmas Movie per say but it was the behind the scene on how Elf was made and I found it fascinating!
Love the Coopers
I don't know how I had never seen this one before because it has a big name cast. It was a little hard to follow at first but I really liked it. The intertwined stories of four generations of Coopers unfold right before the annual family reunion on Christmas Eve. Can they survive the most beautiful time of the year?
The Christmas Chronicles
There is now a second one which is of course not as good as the first! The story of sister and brother, Kate and Teddy Pierce, whose Christmas Eve plan to catch Santa Claus on camera turns into an unexpected journey that most kids could only dream about.
These ones are all pretty classic "Hallmark Christmas Movie" vibes but I would say the better of them! You may want to play along with this!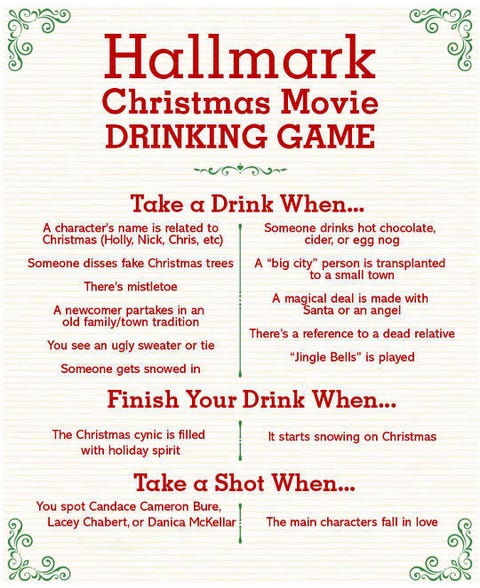 Let It Snow
Based on a book this one involves a small town on Christmas Eve, a snowstorm bringing together a group of young people including a rock star and of course some young love!
The Holiday Calendar
I really liked this one despite it being pretty predictable. A struggling but talented photographer inherits an antique holiday advent calendar, the contents of which seem to predict the future. Will this magical calendar lead her to love this holiday season? I bet you can guess the answer lol
Christmas Inheritance
This one is pretty typical lol. To be the CEO, an heiress is challenged by her dad to deliver a Christmas letter in person to his ex-partner in their hometown – traveling by bus, incognito and with only $100. Will she learn something from the people there?
Christmas Wedding Planner
This one wasn't as cheesy as most but still up there and I loved it! Wedding Planner, Kelsey Wilson, is about to have her big break: planning her beloved cousin's lavish and exclusive wedding. Everything is going smoothly until Connor McClane, a devilishly handsome private investigator, shows up and turns Kelsey's world upside-down. Hired by a secret source, Connor quickly disrupts the upcoming nuptials but wins Kelsey's heart in the process.
Broadcasting Christmas
I mean you knew Melissa Joan Hart had to be in this line up. Two news broadcasters who previously were in love fight for a position as a morning talk show host that they both want, ultimately finding what made them like each other so much in the first place.
Christmas with a View
Secret aspirations between a failed restaurateur and a celebrity chef threaten their blossoming Christmas romance.
Christmas Wonderland
I totally thought the main actress was Jamie Lynn Spears which is why I choose it initially but it isn't, still a cute movie though. Heidi , who initially left her small town of Pleasant Valley with the dream of one day becoming a successful painter, has put her own art on hold to excel as an art gallery curator. Now, a week before the gallery's big Christmas party, she must return home to watch her niece and nephew. She comes face to face with her high school love, Chris, now a teacher, who is in over his head after he must find a new last-minute location for the Christmas dance. Heidi offers to help him and together they discover a beautiful place for the dance, perfectly capturing the Christmas spirit, called Wonderland Farms. The more time Heidi spends in Pleasant Valley decorating for the Christmas SnowBall, the more she finds herself inspired to start painting again. With Christmas fast approaching, Heidi soon becomes torn between the life she built in the city and the life she is surprisingly charmed by back in Pleasant Valley, embracing her true passion.
A Christmas Prince
There are 3 to this series now and as normal the original is the best. When a reporter goes undercover as a tutor to get the inside scoop on a playboy prince, she gets tangled in some royal intrigue and ends up finding love – but will she be able to keep up her lie?
The Princess Switch
There is now a sequel where Vanessa Hudgens plays 3 rolls. Competing in a Christmas baking competition in Belgravia, a Chicago baker bumps into the prince's fiancée–who looks just like her. They switch lives for two days.